The Christmas Guest

by Daisy Bell
Published by Hachette UK on October 20th 2016
Rating:

Genres: Pets, Dogs, General, Fiction, Humorous
Pages: 288

Synopsis:
'A heart-melting Christmas story about the sweetest little dog bringing happiness to a family who needs him as much as he needs them' Amazon reviewer. Meet Teddy: the homeless puppy with a huge heart who healed a family . . .
When Teddy runs away from home a week before Christmas, he's far too excited to worry about what lies ahead. But all too soon Teddy realises just how cold and scary the world really is, and what was supposed to be the perfect adventure now seems like a terrible mistake.
Then Teddy is discovered on a snowy doorstep by the Woods family. With their kind hearts and cosy cottage, Claire, Ben and their daughter Emily are the family Teddy is desperate to have. But Emily is ill, her parents are stressed and, with Christmas around the corner, raising and training a well-meaning but unruly puppy is hardly a priority. Teddy knows he and little Emily have a once-in-a-lifetime bond, and that he can be the best friend she needs in this dark time. If only he can prove to Ben and Claire how much happier he could make them all, Teddy might just find the family of his dreams this Christmas.
A puppy for Christmas. A friend for life.
The Christmas Guest is one of the most adorable books I've ever read – it's short and sweet and funny and charming, and ADORABLE. And why are there not more books written with the voice of a puppy? WHY WHY WHY WHY WHY? Because they would be amazing and that's legit all I would read for the rest of my life, because puppies are just the greatest thing in the world. We have dogs, but we've never had a puppy, which makes me sad because they're just fluffy and small and cute and mischievous. (Mind you, our full growns dogs are all of that, too!)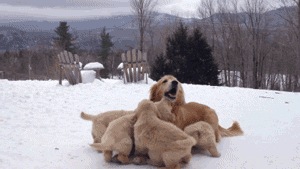 I loved how Teddy just bundled into the Woods' lives and caused absolute chaos – unintentional chaos, but chaos nonetheless and he did it in his adorable way that I would never have been able to stay angry with him, seriously. But, in all seriousness, I loved the way he pulled the family together, proving once and for all that dogs really can heal all ills, and mend families and pull families together, and I just loved every page.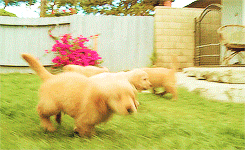 This is genuinely one of the sweetest books I've ever read. My heart felt like it was fit to burst and every time Teddy did something wrong, accidentally most of the time, my heart was in my mouth, hoping they wouldn't send him away. I loved how Teddy helped the family, how much he meant to little Emily, who I wanted to hug, and proves once again that a puppy isn't just for Christmas, it's for life. *Happy sigh*